The on-demand food delivery service Doordash is growing and expanding, but has it done enough to keep its customers happy?
Doordash is a company that provides on-demand delivery services. The service has been around for about two years and has grown in popularity due to the convenience it offers.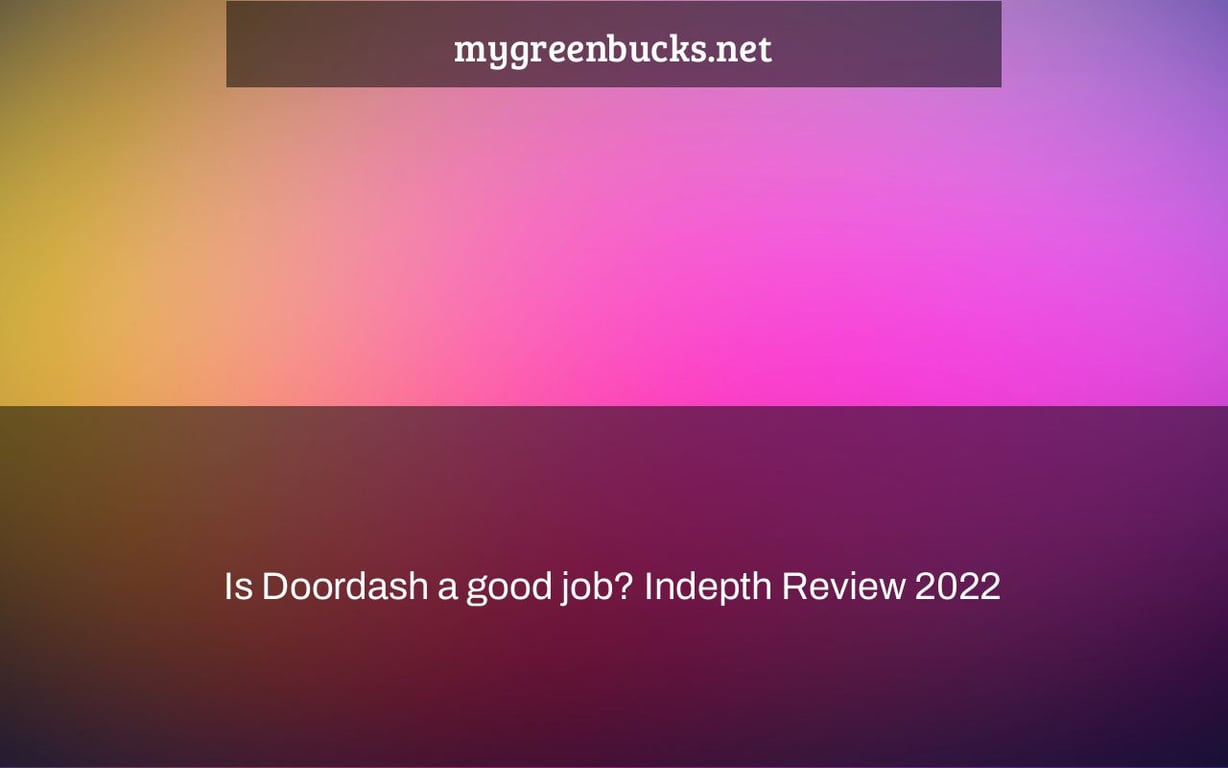 Is Doordash a decent place to work?
Is it possible to earn a decent living as a dasher?
Is it possible to earn a livelihood as a dasher full-time?
If any of these questions have arisen in your mind, you have come to the correct spot!
All of these questions are answered in our Doordash review, which includes feedback from genuine dashers.
How Does Doordash Work and What Is It?
Doordash is a food delivery business where you may work part-time or full-time as a driver and earn money.
It's now accessible in over 4000 locations throughout North America, with additional cities being added on a regular basis.
It's straightforward.
Customers use the doordash app or website to place orders from their favorite eateries. They accept the cost they must pay the app, as well as any tip they choose to leave for the driver.
The firm then seeks out a neighboring dasher to see if they would take it.
In doordash, a driver is known as 'Dasher.' So, if you're connected into the app at that time and available to deliver the meal, you'll get a notice to review and accept the order.
You'll have 80 seconds to accept or decline the order.
You must then go to the restaurant and swipe the app after accepting the order. It will notify both the firm and the client that you have arrived at the restaurant.
There, you'll place the order according to the customer's specifications and just wait for it to arrive.
You'll pick up the meal from the restaurant once it's ready and prepare to drive to the customer's location.
You'll be prompted to swipe the app once you've picked up the meal to notify Doordash and the client that you've done so.
Finally, bring the meal to the consumer and confirm the order with a final swipe in the doordash app.
How would you find out where the client is located so you can deliver the food?
The DoorDash app includes all of the information you need to know about where you need to deliver the meal. The software will also assist you in setting appropriate instructions in your phone.
Some clients additionally leave a comment indicating where they are located. This is a kind gesture since it will make it easier for you to go to the customer's location.
Even after all of this, if you still have an issue, you may use your app to send an SMS or phone the customer. I often converse with customers, which is quite helpful when instructions are unclear.
Let's look at their pricing plan in the next portion of this evaluation now that you know how doordash works.
Is Doordash a decent place to work?
Yes, Doordash is a fantastic profession and you can earn a full-time livelihood as a dasher, but I wouldn't recommend relying on it as your primary source of income.
You may work as a dasher in the morning and a corporate job in the evening.
However, juggling a full-time job with working as a dasher may be difficult.
As a result, I would urge you to work for Doordash 9 to 5 and create a side company online or offline.
You'd wind up with a nice sum of money at the end of each month if you did it this way.
If you like driving, being a doordash driver may be a good motivator for you.
Food delivery services are becoming more popular these days. The covid has worked at a faster speed than normal.
What Drivers Have to Say About DoorDash: Honest Accounts from Real People
If you obtain a large number of dashes, you'll be able to make a lot of money.
From my personal experience dealing with doordash, the business provides good assistance and offers promos, but I wouldn't say I was able to gather all of the information necessary to write an honest evaluation today.
After all, I wasn't working in all of the doordash-affiliated cities and restaurants.
So I reached out to other drivers online and joined their forums to learn about their thoughts and experiences with the app.
I also researched their ratings on several websites while doing so.
Let's take a look at some of the ones that highlighted particular information.
"a nice side business"
"Only for additional cash"
The majority of the reviews said that they would not advocate working as a doordash driver as a full-time job. Instead, they said that it is only suitable as a side business. It's because the practical earning potential in the United States is likely to be low. You'll find out more if you keep reading.
"Dashing isn't offered on a constant basis"
"slow and rushing at moments"
Some of the drivers said that they weren't receiving orders on a regular basis. As a result, they weren't generating much money from their ruse. Dashing might be delayed at times due to the demand for delivery services varying based on where you reside. In any case, you'll look into it when you've completed your duties in your region.
"Work flexibility is fantastic"
Another advantage of working with Doordash that dashers mentioned was the job's flexibility. They said that they were allowed to choose their own working hours. You are free to work at any hour and for any length of time.
"I'm not inspired to work"
I saw two types of drivers who said that they were unmotivated to continue working as doordash drivers. Because of the lengthy wait times and sluggish dashing, several of them were bored. Others said that they become bored as a result of too much driving. So, once again, it's up to you to stay motivated while working for this organization.
"I've been driving too much"
"There are so many towns to visit"
People provide a variety of feedback on their work. Drivers who were bored from too much driving praised these two reviews as well. They didn't seem to be concerned about anything else.
"Pay is abysmal"
This was simply a broad overview of a few of the drives. Some folks may not think the profits are particularly good. Even so, you must have a rough estimate of how much money you'll make.
"It's too much to wait"
"The app regularly crashes"
I did come across a few reviews from drivers who were complaining about two items, albeit not many. They were either irritated because they had to wait in restaurants or because they were waiting for the next order after completing the previous one. Now, if I'm going to speak broadly, I'll point out that this may not be an issue with all eateries. Even if certain hotels are making people wait, the issue might still be with that particular restaurant chain in their location. As a result, in your instance, you must get started in order to get experience.
Furthermore, just a few reviews mentioned the app crash issues. They claim that the Doordash app isn't up to par. As everyone else is using the same software, this may be a bit dodgy.
All of these evaluations might help you acquire a better understanding of what it's like to work as a delivery driver. However, you should read one of the next parts of this post, in which I provide suggestions on how to make more money from such delivery service websites, as learnt from the top earners.
What Does It Take To Become A DoorDash Driver?
Here's how to join Doordash if you've chosen to give it a go.
You only need to meet specific standards and register on the company's website to become a doordash driver.
I've broken out the whole procedure below so you can get started with doordash step by step.
Requirements for Doordash Drivers
Before you begin working as a delivery rider, you must meet the following requirements:
To meet the minimum age requirement, you must be at least 18 years old.
You'll need a mode of transportation, such as a vehicle, motorbike, or bicycle.
Depending on the vehicle you'll be using to transport meals, you'll need a valid driver's license.
If you're renting a vehicle, doordash may require you to provide evidence of insurance.
To utilize their app, you'll need a smartphone.
After you've completed these steps, you'll be able to sign up for the app. However, there is one more criteria that you must fulfill.
They'll ask you to pass a criminal background check when you submit your information. After that, you'll be able to finish the registration procedure, login, and get to work.
If you'd like to see a video instruction of the whole sign-up process, click here.
Registration and Login for Doordash Drivers
You'll fill out your information on their app to join up now that you're clear on all of the criteria.
They'll assess your application in 3 to 5 days once you've submitted all of the necessary information, such as your email address.
You'll be approved as a dasher in their community if you meet all of their conditions.
You'll then be able to get started.
After completing your registration to join up and connect to the app, you will get your beginning package.
Make A Hurry Schedule
After you log into the app, you'll see a schedule tab.
You may discover information about available shifts by accessing that tab.
You may go through your weekly schedule and sign up for shifts based on your availability.
It is entirely up to you whether or not you wish to work in a certain shift. It has no bearing on how you work or how well you are rated.
After you've scheduled your shifts, your app must stay active until the start time of your chosen shifts.
30 minutes prior to the start of our shift, Doordash will send you a notice.
After going online with your app, you must choose 'Start Dashing' within this time frame.
If you don't follow these instructions, your shift will be terminated and given to someone else.
During your shift, you may also cease working at any moment. This function came in handy when I had to leave my shift halfway through the shift due to an emergency. It has no effect on your rankings.
At Any Time, Dash
It is not necessary to organize your rushing schedule all of the time. You are free to begin working at any moment.
This will come in handy if no shifts are available in your region.
As a result, you must keep a watch on the map inside the doordash app to collect orders. When it becomes red, it means that orders are open and you may be able to have one delivered.
Unless otherwise specified, your map will turn red during busy hours such as breakfast, lunch, or supper. Most individuals will be hungry at that time and will most likely order via Doordash.
Overall, if you're online and the region is red, you can have meals delivered quickly.
Working As A -BETTER EARNING- Delivery Driver: How To Earn More With DoorDash
Experts and experienced drivers claim to be able to earn $25 per hour, whereas I was able to earn $20 on my own.
So, if you're curious in what experienced drivers have done to improve their earnings, stay reading this section to learn more.
Simply said, it's about how often you drive, but that's not all. There's a lot more you should be aware of.
During Peak Hours, Drive
When driving during rush hour, there are two distinct advantages. In most cases, there are additional orders. Second, see whether you're being paid more by Doordash for driving during this period. Typically, remuneration is greater during peak hours, and you might earn extra with each delivery completed.
Keep an eye out for special offers and bonuses.
Incentives range from $1 to $7 for each dash in specified places and at certain times.
Keep an eye on the road and drive.
In certain places, you can earn a signup bonus (it's even $750 in some right now, but not all). To qualify for this incentive, you must accomplish a certain amount of deliveries.
Earn a bonus for referring others. Incorporate a referral code into your app. You'll earn a bonus if your referral driver makes the required number of deliveries.
You may get a promotional incentive in certain regions, just as you would if you worked during peak hours. Or, if there is one, merely a bonus. Keep track of how much money you'll make from each order.
In select areas, you may also be eligible for a signup bonus of up to $750. However, you will not get this money immediately soon. Instead, such incentive money is contingent on you completing a certain number of deliveries in a certain number of days.
Another kind of benefit that might help you earn more money is referring other drivers to DoorDash. Your referral code may be found in your app. Simply ask the individual to join up for their app using that code.
At the Same Time, Multiple Orders
I didn't realize I could accept many orders at once when I first began working for Doordash.
As a result, when I arrived at a restaurant to pick up an order, I was prompted to take another order from the same establishment. I accepted, and after picking up meals for both clients from that restaurant, I delivered both orders.
It helps you save time and money by reducing the amount of time and petrol you spend driving to customers' locations.
Maintain Consistency
I'll want you to keep rushing for as long as you can when you first join the firm. This manner, you'll be able to determine the time of day when you'll be receiving orders regularly. You'll need to find out what your neighborhood's routine is.
This suggestion is directly related to the region in which you're working. As a result, you'll have to work it out on your own. Finally, maintain consistency.
Drive where you don't have to pay for parking and deliver quickly
Parking fees may cut into your profit margins. As a result, you may look about you and take orders in locations where there isn't much traffic. This will save you a great deal of time and money.
Drive for a variety of apps
You may sign up for various meal delivery services at the same time, such as Grubhub, Lyft, and UberEATS. This will keep you more interested and allow you to earn more money than normal.
TIPS FOR EARNING MORE
The way you interact with customers might help you earn more tips. While not all clients will offer you tips, it is still a great effort that will help you make more money in the long run.
Small orders should be avoided.
Orders that don't pay as much as you'd like may be skipped. You'll make more money with each delivery this way. While I wouldn't advise missing each and every tiny purchase,
Despite the fact that all of these suggestions are effective and that your ability to make more is dependent on your own work ethic, I'd like to provide a few key points to remember.
FINAL VERDICT:
You must maintain your acceptance rate to keep the doordash pleased. It has to do with the amount of jobs you've accepted out of the total number of tasks that Doordash has provided you. So, although you're attempting to make more money, don't jeopardize your acceptance rating by declining orders at a higher rate than normal. If you do it repeatedly, you'll receive a warning, even if there's "no minimum acceptance rate required."
You must keep track of your income and spending. In this case, you must pay taxes on your real earnings after deducting the expenses. DoorDash will issue you a 1099-MISC, but you must record your own costs like as mileage.
Most Commonly Asked Questions (FAQs)
Does Doordash cover the cost of gas?
It doesn't work that way. You are responsible for not just the cost of petrol, but also the cost of car maintenance.
Does Doordash cover the cost of your mobile data?
No, you are responsible for recharging your mobile data.
Is mileage reimbursed by Doordash?
The driver, not Doordash, is responsible for the whole distance of your car. This is the same as the rest of your job-related costs.
Is Doordash an hourly service?
It's not going to be easy. When you look at their compensation model, you'll see that it takes into account the amount of time it takes you to complete a delivery. However, this isn't the only aspect that determines how much money you'll earn. Instead, they pay you each delivery, which varies as well. So yet, there hasn't been any hourly pay.
Does Doordash pay on a daily basis?
No, they pay on a weekly basis. Every Monday, you will get compensated. And it takes 2 to 3 days for your money to appear in your account.
Putting It All Together
Finally, I'd say Doordash is a nice profession, but not one that can be pursued full-time. You may earn a few hundred dollars to more than a thousand dollars every month as a side business.
Second, I thought the ability to work from anywhere was a huge bonus. You may also register with Doordash and begin delivering meals to folks. While you're at it, check out some of the recommendations I've provided today to discover what works best in your location.
Watch This Video-
Doordash is a one of the most popular delivery services in the United States. The company has been around for nearly 10 years and has a variety of different delivery services. Doordash offers food, groceries, and more. Reference: doordash reviews 2021.
Frequently Asked Questions
Is working for DoorDash really worth it?
A: Working for DoorDash is a great way to make some extra money and find part-time work. There is also the potential for hourly bonuses that can lead you to making more in an hour than with most side hustles on their platform.
Is DoorDash enough to make a living?
A: DoorDash is not enough to make a living and they may be scamming you.
Related Tags
is doordash worth it reddit 2021
is doordash a good job for college students
working at doordash corporate reddit
is doordash worth it after gas
working for doordash reddit